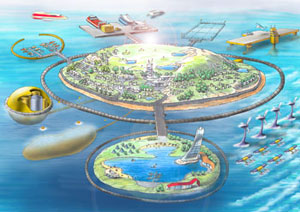 A lump of space detritus a mile across, hitting Earth at around 15 miles per second, would release energy equivalent to a million megatons of TNT, or a hundred million Hiroshima bombs. Computations of the effect of such a blast suggest global catastrophe. No matter where ground zero was located, we'd all be in deep trouble.
You may think this is just theory, but astronomers have seen such a cataclysm, on another planet. Inmid-1994, the 20-odd pieces of a broken-up comet called Shoemaker-Levy 9 slammed into Jupiter. The black eyes that the planet received had areas ranging up to four times the surface area of Earth. And the largest of the comet fragments responsible were only a third of a mile in size.
We know also that such things have occurred on our deceptively docile planet. Geologists have so far identified more than 250 impact craters spread over the continents. On Earth, unlike on the dead, pock-marked moon, active geology and atmospheric weathering erode craters relatively quickly. In any case, 70 per cent of the globe is ocean.
But geologists have estimated how often Earth suffers a cataclysmic impact energetic enough to disrupt the climate globally. Astronomers like myself have made similar estimates from studying asteroids and comets in space.
Our answers agree. Once every 100,000 to 500,000 years, we can expect a major impact, sufficiently powerful to cause the deaths of perhaps half of humankind. That may seem like a comforting answer, but it implies, say, 2.5 billion deaths every 250,000 years, or ten thousand deaths per year, taken as a global long-term average. Read More >>