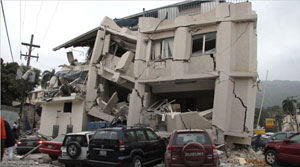 At about 8:30 a.m. on January 26, 15-year-old Kunal Doshi was preparing to take a bath when a rumbling began. In minutes, his house crashed down around him. Rubble trapped the naked Kunal up to his neck, with a concrete pillar crushing his right leg. A heavy door teetered inches above the boy's head. A massive earthquake had leveled Kunal's city and much of the state of Gujarat.
Kunal's 18-year-old sister, Rachana, who was rescued from the ruins several hours after the quake, found her trapped brother four days later. "Hold on," she called to him. "Help is coming." Kunal, a Hindu, prayed.
But when rescuers arrived on the scene, they faced a dilemma. If they removed the pillar that was crushing Kunal's leg, tons of broken concrete would fall and kill him. They decided his leg would have to be amputated on the spot. But if the doctors didn't cut off the leg quickly, the boy would bleed to death.
To ease Kunal's pain, a doctor gave him a painkiller. An Indian army surgeon, Lt. Col. Prem Singh Bhandari, crawled into the work space that rescuers had dug around the boy. The doctor later described the space as "a cave about 2 feet by 2 1/2 feet." Bhandari asked for …
Continue reading »