Clean air is life. Medicine has taught us so much about it. Remember the ABC's of basic life support. When faced with a medical emergency, check the ABCs first before doing any life-saving measures where A stands for airway, B for breathing and C for circulation. A few minutes without air and your brain loses oxygen that is essential for living. You will soon be declared brain dead and you might go into a coma. That is just how crucial air is in living.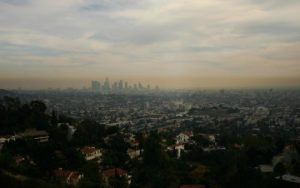 And breathing clean air is just as important as being able to breathe. Constant exposure to pollution damages important body organs and systems and puts you at higher risk of certain medical conditions like asthma, emphysema and even lung cancer. However, breathing clean air is becoming more impossible in a modern world dominated by technology. Fumes from vehicles, smoke from vices like smoking and polluted air emitted by factories and other manufacturing plants contribute to this major issue. It is likewise a common problem faced by a progressive nation like America.
A combination of unfortunate topography, a large population, and the realities of worsening climate change makes California cities some of the worst places to breathe air in America.

"No state has done more to address air pollution than California has done over the last 50 years. But they also have the biggest problems," says Paul Billings, the senior vice president of advocacy at the American Lung Association, which issued its latest State of the Air report on Tuesday (April 19).

Eight of the 10 cities with the highest year-round concentration of particulate matter—or PM2.5—between 2013 and 2015 were in California, according to the report. The state is also home to seven of the 10 American cities with the worst ozone pollution. Both PM2.5 and ozone are linked to an long list of health problems, including asthma, lung cancer, premature death, and developmental delays in children.
(Via: https://qz.com/963089/california-is-home-to-eight-of-the-10-cities-in-america-where-air-pollution-is-worst/)
California is home to the worst air pollution in the US and factors like spikes in particulate matters were all taken into consideration before declaring Bakersfield, California the grand winner in all of America. And it is an award they can't be proud of. Imagine living in this smog-filled city and inhaling this toxic air on a daily basis.
State air-quality officials insist that the amendment won't hinder efforts to ensure the cleanest, least-polluting trucks are on the road, but environmentalists and regional air quality regulators disagree. The stakes are particularly high in Southern California, where diesel-fueled big rigs are the top source of smog-forming emissions and pose a health risk to communities along major highways. In the coming years, the South Coast Air Quality Management District is expected to consider rules that would require companies to switch to zero- or near-zero-emission trucks, as well as rules that would require cleaner trucks serving the region's ports, warehouses and railyards. AQMD officials warn that the amendment — even after it was tweaked ostensibly to address environmentalists' concerns — will likely lead to lawsuits if Southern California and other regions try to enact new rules that affect trucks.

Some in Sacramento say environmentalists and health advocates should stop complaining. Nobody gets everything they want in a political compromise, and in this case environmentalists would get more dollars for public transit, bike lanes and other infrastructure investments to help get people out of cars. But a compromise shouldn't undermine a top state priority, cleaner air. Brown and legislative leaders have repeatedly pledged to block any attempt by President Trump to roll back California's ambitious climate change agenda. Why, then, would they sign off on an amendment designed to stymie Southern California's efforts to clear the air?
(Via: http://www.latimes.com/opinion/editorials/la-ed-transportation-funding-bill-20170406-story.html)
California is trying its best to enforce reforms and improve the air quality in the state. The health of the people and the state's image has been suffering for years but little by little, they are making progress for the better. Yet despite the progress California has made in improving air quality in this part of America, they still continue to face major obstacles, especially that major budget cuts imposed by the Trump administration include the US Environmental Protection Agency. The state will have a hard time pushing for positive reforms without enough support and funding from the federal government but we can expect the sunny state of California will find a way to improve living and health conditions in the state at all cost.