We often complain about a lot of things because we don't know any better. When it comes to environmental conservation, every effort counts. So, doing nothing while complaining all the time is not exactly a fine trait you can be proud of. The planet is deteriorating right before our very eyes. Global warming makes the world more difficult to live in for most of us. However, is it really nature's fault or is it because of us that the world is rapidly warming? It is likely us, right?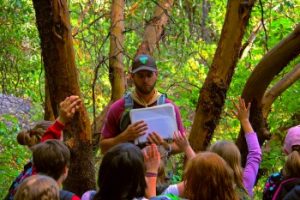 The best way we can counteract climate change is to educate the people about it and learn what measures can be done to prevent it from progressing. We can't stop climate change from happening because it already is a phenomenon we experience today. However, by making some lifestyle changes that help protect the world, we may be able to delay its full wrath for longer.
Kentucky's two senators, Rand Paul and Mitch McConnell, are both "skeptical" that human behavior has caused climate change. But since 2011, when, following years of planning and collaboration by scientists and educators, the state approved its Environmental Literacy Plan, students there are taught the reverse. High schoolers, in chemistry class, learn how methane emissions alter the makeup of the Earth's atmosphere and contribute to global warming. In a historically coal-producing state, they learn about the harmful effects of the industry; now, at public-school hosted career days, representatives from the "green economy"–from wind turbine technicians to energy-use experts–are required to be on site to offer advice.

Even though Kentucky's voting population runs red, the state is among the most progressive in the country when it comes to environmental education. The United States, however, currently has no formalized environmental education policy (and under the current administration, is unlikely to implement one), but volunteers in 48 out of the 50 states have drafted their own plans. The results have been mixed. Earth Day Network (EDN)–the advocacy organization that emerged from the first Earth Day on April 22, 1970–surveyed the status of environmental education across the 50 states."Some are decent, some are horrible," EDN President Kathleen Rogers tells Fast Company. "Some have the right idea but haven't made progress."
(Via: https://www.fastcompany.com/40408119/could-universal-environmental-education-spur-a-green-revolution)
The new US administration seems to take the issue of climate change lightly. For them, it is just the figment of the imagination of a few and a means to ask for more money on causes that don't really matter. Well, that's them. For the rest of us who experience the wrath of climate change in our day-to-day, most especially during disasters, we understand that time is of the essence and we should act now or forever regret not doing anything when we still had the time.
Pakistan marked Earth Day 2017 with an aim to encourage people to promote environmental and climate education campaigns across the country. 

A number of activities were organised by WWF-Pakistan in different cities which engaged education institutes, corporate entities, civil society organisations, local communities and government departments.  Speaking on the occasion, Hammad Naqi Khan, WWF-Pakistan director general, said that education could play a pivotal role in addressing environmental problems which were increasing day by day. It can also help create public support for conservation of the earth's resources and can be a voice for change. "With quality education, we can inspire action towards environmental protection and sensitise people to adopt green technologies", he said. He was of the view that people should switch to alternative energy, end use of plastic bags, conserve freshwater bodies and make effective and wise use of natural resources It is time to take environmental and climate issues seriously and mobilise people to develop public momentum to mitigate greenhouse emissions, increase tree cover, reduce pollution and protect endangered species.

He also emphasised that environmental education should be a compulsory subject and taught in schools across the country. 
(Via: https://www.thenews.com.pk/print/200163-Environmental-education-should-be-a-compulsory-subject)
The desire to educate the people about climate change, global warming and environmental conservation are also felt by people in other parts of the world, not only in America. For any conservation effort to work, it should be a collective effort of the majority because the issue has been so magnanimous that it has been almost impossible to solve for years and the damage just keeps adding up.
However, we can't afford to give up since it is our future at stake. If the world becomes inhabitable, what will happen to the future generation? Are we condemning them to their future doom? So, let us be responsible in our ways and help raise awareness on various environmental issues so that the planet no longer suffers from further harm than it already does. If more people unite and make an effort to saving the world, the burden becomes lighter and the work becomes easier. Let us keep this in mind as we face the threats of climate change and many others.