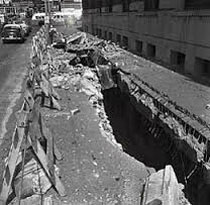 Insured losses from the earthquake that shook the Pacific Northwest in 1998 could reach $1 billion or more, which would make it one of the most costly U.S. quakes for insurers.
Property damage from the Feb. 28 quake, a 6.8-magnitude temblor that was centered 35 miles southwest of Seattle, is widespread. But property damage is expected to be largely superficial, and major structural losses are not likely, according to preliminary reports.
Risk managers in the region credit advance planning and preparedness for helping keep casualties and insured losses from being far greater.
Initial estimates of insured losses from the quake ranged from hundreds of millions of dollars to as much as $1 billion as of late last week, though estimates are expected to grow as more loss data becomes available. The quake also caused injuries to about 320 people and resulted in one death from a heart attack, according to media reports.
State and federal officials late last week estimated total economic losses from the earthquake at $3.6 billion, including damage to roads, bridges and government buildings.
One day after the quake, Swiss Reinsurance Co. estimated that insured property losses would reach at least several hundred million dollars, based on an estimated $1 billion in total economic damage, said Luzi Hitz, head of Swiss Re's earthquake group in Zurich.
But that preliminary assessment-which does not include damage to insured public property or business interruption losses-could change, he said, as more data and insurance company reports become available and provide a better picture of the event.
Catastrophe modeling company Applied Insurance Research Inc. estimated that insured losses could reach up to $1 billion, including claims for damaged contents and business interruption, said Uday Virkud, senior vp for the Boston-based company.
Other companies with catastrophe modeling software estimated insured damages would fall in a similar range, between $500 million and $1 billion.
Even within that range, the quake would rank as one of the five largest U.S. quake losses. Still, it would fall far behind California's 1994 Northridge quake-the most costly quake, with an estimated $12.5 billion in losses-and the 1989 Loma Prieta quake, which caused an estimated $7 billion in insured losses, according to the Insurance Information Institute.
One reason for the lower loss estimate is that only about 30% of insured structures in the Seattle-area have earthquake coverage, said Mr. Virkud and other insurance industry sources. Statewide, Insurance Commissioner Mike Kreidler estimated that only about 12% of policyholders have earthquake coverage.
Mr. Virkud said that he expects that many of the claims from last week's quake will involve residences, rather than commercial buildings.
According to preliminary reports on commercial properties, older, masonry buildings bore the brunt of structural damage, while modern office buildings and other newer commercial buildings likely suffered limited structural damage, according to Mr. Virkud.
Much of the damage to newer buildings likely was limited to cracked facades, broken glass and fallen ceiling tiles, Mr. Virkud said.
There are probably thousands of small property losses, far outnumbering severe losses from the quake, said Swiss Re's Mr. Hitz. As of Thursday, he had received no reports of claims for severe damage to commercial buildings.
As of Friday, Factory Mutual Insurance Co. had received loss reports from about 25 policyholders, of which 10 to 15 were claims for sprinkler leaks, said Jeff Tenn, operations vp-engineering for FM Global Earthquake Services in Woodland Hills, Calif.
One of the highly protected risk insurer's immediate priorities in response to the earthquake was contacting its policyholders in the area to make sure their sprinklers were operational and prepared for the secondary risk of fire, Mr. Tenn said. None of the insurer's commercial policyholders reported fires, he noted.
Water damage from broken sprinklers accounted for damage to some retail operations and a few office buildings, said Ed Rhone, branch manager in Seattle for GAB Robins North America Inc.
"We are not seeing a whole lot of it, because most of the systems have been changed to dry systems, but there are some continuing exposures from wet systems that are out there," he said.
Additionally, water gushing in from broken water mains caused damage to three or four retail businesses, Mr. Rhone said.
Retail stores also may experience business interruption losses because damage to streets is keeping shoppers and workers away, he added.
Initial inspections by loss adjusters with McLarens Toplis North America Inc. revealed a high volume of claims is likely from the quake, but claims will be limited mostly to cracked walls, floors and building facades, said Robert J. Barnett, property operations leader for McLarens Toplis in Los Angeles.
One reason that properties appear to have avoided more significant losses is the depth of the quake's epicenter.
Last week's quake had roughly the same magnitude as the Northridge earthquake, which killed 57 people and caused an estimated $12.5 billion in insured damage against $40 billion in total economic damage. But the Washington temblor was centered more than 30 miles below the earth's surface, while the Northridge quake was only about 10 miles below ground.
While the earth's crust absorbed a large portion of the quake's energy, to risk managers, it still felt plenty strong.
"It felt like I was on the deck of a boat. It was really rolling," said John W. Lambdin, insurance manager for Weyerhaeuser Co., a Tacoma-based forest products company. But damage was relatively light and, based on initial estimates, is expected to fall within Weyerhaeuser's self-insured retention, he said.
"We have some damage here and there, but nothing catastrophic," Mr. Lambdin said. Weyerhaeuser's business interruption losses also are limited. One company pulp and paper mill in Longview, Wash., south of the epicenter, shut down for a damage appraisal. But operations were expected to resume quickly, he said.
"As a whole, the region did very well," Mr. Lambdin said.
Other risk managers agreed.
"It was as realistic and friendly a drill as the Pacific Northwest could hope for," said Lewis Leigh, executive director of the Renton-based Washington Cities Insurance Authority, which provides property/casualty coverage for about 100 pool members. "It was a good test of our emergency communication plan."
Still, the WCIA had to evacuate its headquarters for a few hours during a precautionary inspection. Total damage incurred by its members will easily exceed a $100,000 self-insured retention the WCIA holds for earthquake risks, Mr. Leigh said.
In some cases, damages at a single member will probably exceed that deductible, he said. But, he added, it is still too early to determine the precise extent of damage. Members likely suffered losses to older buildings, infrastructure and other property such as golf courses. In addition to insurance coverage, cities also are likely to receive disaster assistance funds from the Federal Emergency Management Agency.
Prior to the quake, federal funds had already helped WCIA members to reinforce buildings, bridges and other public infrastructure, which helped limit damage, Mr. Leigh said. City emergency plans also helped minimize damage.
"Everybody knew their jobs, and they worked through the night to do their jobs," Mr. Leigh said.
At GES Exposition Services Inc.'s two Seattle-area locations, the quake broke some fire sprinkler connections, causing widespread water damage, and upset racks of stored goods and crates, according to Lance Ewing, the company's senior director of insurance and loss prevention.
"We were fortunate we had no injuries" among the 140 people working at the two offices, which are located just south of Seattle, he said.
Earthquake preparedness drills helped workers cope, as did the company's crisis management plan, which Mr. Ewing directed from the company's Las Vegas headquarters.
In the wake of such an event, a company must remember that there is "a human side" that must be addressed, Mr. Ewing said. GES employees were told to take care of their home needs first, he said.
One big difference between this and earlier catastrophes, Mr. Ewing noted, was the rapid communication capabilities provided by e-mail and digital photography. "Within two hours, we already had digitized photos of the damage," he said. As a result, he was able to contact his insurer and promptly arrange for sprinkler system repairs.
A few school districts and some individual schools shut down because of the earthquake, said David Hayasaka, executive director of Puget Sound Schools Risk Management Pool in Burien, Wash. Some closed only temporarily for precautionary inspections.
"But I fear some of it is to assess real damage," Mr. Hayasaka said. He credited school drills with helping avoid student injuries.
The quake caused a significant crack in the state's Capitol dome in Olympia, which is not insured for the damage, said Betty Reed, risk management administrator for the state of Washington. As of Friday, about 10,000 state workers in Olympia began returning to work, as the capitol complex began reopening.
Additional damage could result to policyholders' pocketbooks when they attempt to renew earthquake coverage.
"I suspect it will tighten up capacity and terms and conditions," said Don Chapman, chief operating officer for SAFECO Insurance Co.'s commercial enterprise unit in Seattle.
It is probably too early to determine the impact on pricing and availability, because the losses are not yet all known, said Anne Anderson, a senior vp for Marsh Inc. in San Francisco. Many losses will not be determined for weeks to come, she said.
"We really do not have a sense of what the commercial insurable loss will be," she said. "As that develops, we will see carriers decide where they will be."