When you look at the current market today, you can see all sorts of stuff being sold. At times, it will make you wonder whether such items really have a useful thing in people's life or are they just a big waste of money in our modern capitalist world. From common household necessities, food and utilities, and so much more, one of the things you should have in your growing arsenal is a survival gadget that can help you basically survive when worst comes to worst. Although such cases are rare, we can't help but be influenced by all the zombie-apocalypse movies we are seeing both on the small and big screens.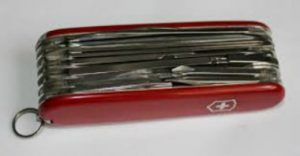 It is time to find out what are the latest survival gadgets you can find and which of them are worth your money and time. From the basic Swiss army knife to other cool outdoor gadgets you can bring on your next adventure, check out what is the best thing to bring with you to ensure you stay safe all the time aside from having a tool you can use for virtually any job without breaking the bank.
If there's one thing Boy Scouts are known for, it's being prepared. But what about when they grow into men?
…
Continue reading »