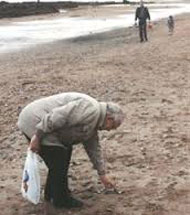 For more than three weeks, we sat with Yesenia's family on the side of the road at kilometer 53, waiting and wailing. It was not until twenty-four days after the quake that they finally found parts of Yesenia's brothers' and family members' bodies and clothing. Each brother, cousin, and uncle was properly re-buried at the family's home in San Vicente.
I feel called to be in El Salvador. I work with a community development agency that has helped to provide a way out of poverty for thousands of Salvadoran people by setting up credit programs, agricultural assistance programs, and health alternatives. The very reason I live and work in El Salvador is because I believe in a God of love and justice.
A vision of the reign of God, full of health and peace, is what spurs me on toward living a life of Christ-centered activism. But the anguish that our dear friends experienced, along with the mourning of a country already so beaten down by ruling-class economics and oppression, made me question my role in it all. Why am I here if I cannot truly help? How can I be of use when God renders me powerless?
As we trekked up to the highway every day, waiting to find out if the bulldozers would be able to dig out Rodrigo, Edwin, and the others, my activist efforts became irrelevant. A credit program would not help them, and neither would a clinic. All I could do was sit with them. I did not dare speak, lest my anger toward God affect them.
As we waited there at the foot of that mountain, I wondered if my faith could last through this journey. Sitting with my friends, this family so broken and torn, I began to question every bit of what I believed. I did not wonder if God existed, I simply wanted to know "Is God good?"
On one of the last days that we headed up to kilometer 53, I remember saying to my husband, "If prayer works at all, if God actually listens and answers, my prayer is that Yesenia and her mother Leonor will experience joy again." At that moment I had a vision in which God appeared and said to me: "I am with you. I was with them when they died, and I am here with you now." No other explanations were offered. But I was held, transfixed, and God's gaze melted my anger.
My activism in El Salvador, working on the side of the poor, offering concrete hope, enables me to help people in need. But these are complicated situations and there is no cookie-cutter alternative that answers all of the needs.
At the root of every endeavor is a commitment to another human being. How far will I go to love this person and to live their story with them? How committed am I to her or his well-being? My activism involves a willingness to see life through others' eyes and give credence to their experiences by helping bring about changes. My belief in a spiritual reality allows me to work from the assumption that all of us are called to love our neighbor.
My profound commitment to many causes flows out of the personal relationships I have formed. When my friend is denied the ability to earn a living for herself and her family, I commit myself to challenge broader policies by supporting fair-trade networks, micro-business initiatives built on local needs and production, equal opportunities in education, work, and domestic responsibility.
These relationships are also an occasion for doubt and suffering. It is a spiritual gift to have the conviction that God is somehow working even when we are apparently rendered powerless to make change.
As we sat on the side of the road with this family, bracing ourselves daily for the news of a shirt, a limb, or part of the truck, I realized that being there was all that God asked me to do. It was all I could do. I had to commit myself to this family by praying for them, sitting with them, and bringing them tarps and snacks.
I have also discovered through deep personal struggle another facet of the spirituality of activism. I am constantly challenged to allow God to inform and change me as I interact with a person and with a cause. Yes, I live in El Salvador because I see God's vision for the poor. I hear the call to help those in need. But if I am not malleable, not willing to be transformed–rather than just taking on the role of transformer–then I am missing out on God's great gifts.
That is, we are never simply a means to an end. Each of us, each activist and each human being, is endowed with the image of our Creator, and we are works in progress. We can approach every day with fear and trembling knowing that our existence is of cosmic significance and knowing that through God's grace we can do all things.