The world is like a box of chocolates. You'll never know what you get with each passing day. Sounds familiar, right? It is an edited version of a famous line from an equally famous all-time favorite movie. Depending on what part of the world you are in, there are attractions and phenomenon exclusive to that place only. It is the same with weather disturbances. Other nations deal with frequent hurricanes or tornadoes while others have to live with constant movement in the ground a.k.a. earthquake.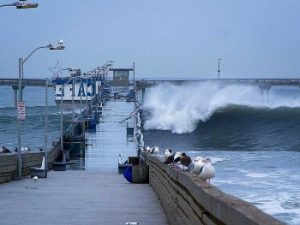 It is time to know more about a weather phenomenon that isn't as talked about as the others but just as savage – El niño. It has its counterpart, La Niña. They both make up the El Niño-Southern Oscillation (ENSO) cycle, the scientific term for temperature fluctuations between the atmosphere and the ocean in the east-central Equatorial Pacific that happens every few years or so. La Niña is known as the cold phase while El Niño is the warm phase. The latter is characterized by warm Pacific waters usually in the month of December and may likewise affect wind shear, which is the blowing of air currents from a lower altitude in a different direction than that of higher winds in the atmosphere.
A weak El Niño pattern will develop in the Pacific, meaning there's the likelihood of a wetter summer in the Midwest, Commodity Weather Group, the Bethesda, Maryland-based forecaster, said in a seasonal report Tuesday.

The wetter-than-normal weather likely will have a negative effect on planting but a positive impact on crops that get planted due to ample moisture, the forecaster said. The El Niño pattern will mean warmer waters near the Baja Peninsula and relatively cooler waters in the Pacific Northwest.

"The central (and) southwest Midwest is at most risk for slower-than-average corn (and) soy seeding, but rains aid moisture for the heart of the Corn Belt heading into summer," CWG said in the report. "Summer temperature outlook trended warmer in the eastern U.S., but mostly unchanged in the Corn Belt, keeping the threat for notable Midwest-focused heat low this season."
(Via: http://www.agriculture.com/weather/future-conditions/weak-el-nino-may-mean-wetter-than-normal-summer-midwest-weather)
The Pacific Northwest should brace for the incoming wet weather later this year because of a weaker El Niño phenomenon. Storms are more likely to form as there is more energy in the warm water during El Niño.
Generally speaking, there is a link between El Ninõ and increased wind shear in the tropical Atlantic Basin. Wind shear limits both the development and strength of tropical cyclones.

This is one of the factors that contributed to the 2017 Atlantic hurricane season outlook issued recently by Colorado State University, which calls for a slightly below average number of named storms and hurricanes.

The most recent El Niño occurred in 2015 and that year the Atlantic hurricane season saw a slightly below-average number of tropical cyclones, with 11 named storms, 4 hurricanes and 2 major hurricanes. The 30-year average is 12 named storms, 6 hurricanes and 2 major hurricanes.

If El Niño develops, parts of the U.S. could see cooler-than-average temperatures later in the summer, according to Dr. Todd Crawford, chief meteorologist with The Weather Company.

Keep in mind that El Niño is only one factor of the atmospheric pattern, but it can play an important role in the weather in the U.S.
(Via: https://weather.com/news/climate/news/el-nino-possible-late-2017-enso-neutral-spring)
Weather changes have a bigger impact in our lives than just having to make up your mind whether to bring an umbrella or not to work or school or whether you should dress up or not when you go outside. The weather is also a big factor when it comes to crop production. It can easily spell a good or bad yield and monetary profits or losses. Others are hoping that the expected El Niño phenomenon this year will be the answered prayer to drought issues in the West Coast but sorry to burst your bubble because it likely won't have that much positive impact since most of the runoff is headed to sea where people can no longer benefit from it.